Vice premier liu yandong meets the YRIC Honorary President Florence Fang
On March 28, Chinese Vice-Premier Liu Yandong met with a delegation headed by Florence Fang, honorary trustee of Peking University, YRIC Honorary President and well-known Chinese-American leader as well as YRIC Executive President Liu Meng on Tuesday in Beijing. The Vice-minister of education Tian Xuejun, secretary of the party committee of Beijing university Hao Ping as well as the Vice president of Peking University Li Yansong were present at the meeting.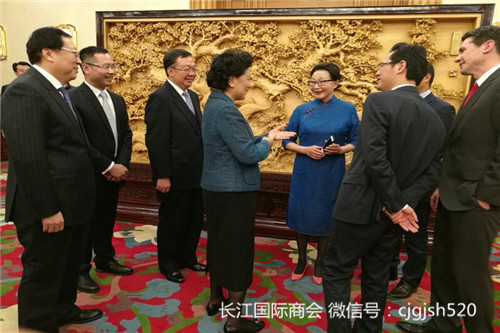 Vice premier liu yandong talks with YRIC Honorary President Florence Fang and YRIC Executive President Liu Meng
During this meeting, Fang emphatically introduced the Yangtze River International Chamber of Commerce which was founded on May 20th, 2014. Together with the former chairman and CEO of American International Group, Maurice R. Greenberg and the Chairman of Cheung Kong Holdings, Sir Ka-shing Li, they attend the Opening Ceremony of YRIC Hubei, which has gain the hubei provincial government's strong support. Now YRIC established a strategy of global development, and 3 YRICs has been launched in the U.S. They are keen to promote the internationalization development of Chinese enterprises and play an active role in economic exchanges.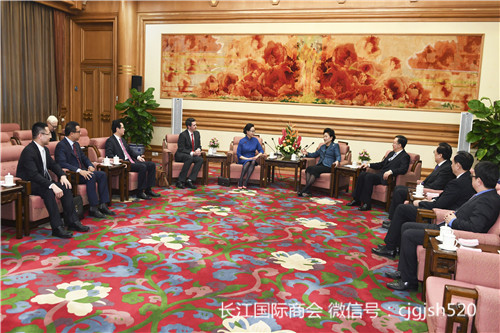 On-site meeting
Liu commended Fang's efforts in supporting and promoting Sino-American friendship and people-to-people exchanges and encouraged her to contribute more to enhance understanding between the two nations. She also underlined that the friendship with Fang can be traced back to the time when she still served as minister of the united front. Furthermore, Fang's donation of Flying Tiger aircraft served in the second world war has far-reaching significance. It should be highly appreciated and praised.
The group photo in Zhongnanhai:Vice premier liu yandong(Left six),YRIC Honorary President Florence Fang(Left seven) and YRIC Executive President Liu Meng(left one)
Sino-American high-level people-to-people cultural exchanges have witnessed many developments since the mechanism was established three years ago, when Fang made a contribution in with the ford foundation. She is the real role model of all Chinese people with her strong patriotic spirit. The two nations have carried out high-level cooperation in fields including science, education and arts, and hundreds of tasks were accomplished. Such efforts have laid a solid public foundation for the development of bilateral ties.The meeting ends in sweet and warm atmosphere.